363 for Leaders Admin Account Setup
360 degree review with 3 personalized strategies for leadership effectiveness
Research-validated online assessment with a 22+ page 360° profile helps leaders compare and understand their self-evaluation with how others see them, using intuitive, easy-to-read visuals, rich cuts of data, and feedback breakdowns, plus three personalized strategies for effectiveness. Package includes Admin Account (EPIC) setup plus 3 leader profiles with unlimited reviewers.
Leader experience
The leader responds to a two-part online assessment: The Everything DiSC 80-item (approximately) assessment and a Leadership Behavior section about how they tend to lead.
The administrator sends the assessment to the leader and as many designated raters as desired. Rater categories include the leader's manager, direct reports, peers, and any others selected to participate in the review. With the exception of one manager, in order for a rater group to be shown in the profile, it must have two or more rater respondents. This is to ensure confidentiality of individual responses. No results from raters will display until after the leader has completed the self-assessment.
Rater experience
With Wiley's exclusive selectable comments feature, CommentSmart, raters can give focused, balanced, constructive feedback—that the leader can actually use. CommentSmart, a proprietary comment system that alleviates the need for raters to write open-ended comments, makes completing the review easy for raters.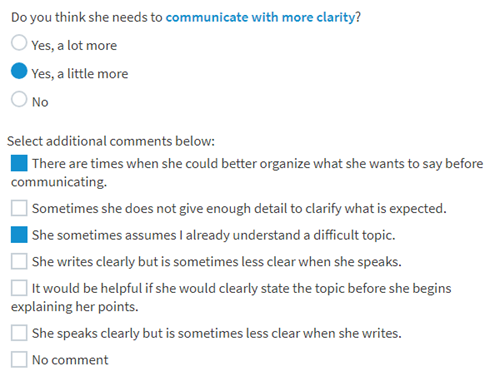 Raters respond to a two-part online assessment: The same Leadership Behavior section that the leader takes (84 questions) plus a Leadership Requests section that asks which leadership practices they'd like to see the leader do more often (30 questions). An unlimited number of raters can respond for each leader.

Everything DiSC 363 for Leaders: The Assessment​
Profile features
Everything DiSC 363 for Leaders isn't a collection of dry spreadsheets and charts without any explanation or story. Clear visuals and a conversational narrative style interpret and explain the data, making the report easy to understand and use.
25+ page feedback report for leaders at any level in an organization.
Clear visuals, conversational style.
No unfocused or unhelpful open-ended comments that can derail the learning process.
Free six-page Everything DiSC 363 Coaching Supplement available with each leader report.
Free, comprehensive support materials, including communication templates.
Online support
Getting started Using Everything DiSC 363 for Leaders (a dedicated website; link opens a new window) This site will take you through set-up, communication, assessment, coaching, and wrap up.
What happens after purchase
Our staff will set up your account and add credits redeemable for the number of profiles you order (50 credits per leader profile; unlimited raters). This is a manual process and may take up to 24 hours to complete.
Once created, you will receive an email from orders@discprofile.com giving you instructions on where to log in and how to use the account.
In the future, you will be able to buy EPIC credits which can be redeemed within your account for additional profiles or other reports.

If you already have an Admin Account (EPIC) you do not need to buy 363 for Leaders from this page. It's available in your account. Contact us for assistance.

* Price breaks available for volume purchases. Discounted pricing shown in the cart.
| Additional profiles | Price per profile USD |
| --- | --- |
| 1 | $240.00 |
| 2-6 | $227.50 |
| 7-11 | $215.00 |
| 12-16 | $207.50 |
| 17-26 | $202.50 |
| 27-36 | $197.50 |
| 37+ | $192.50 |
Have additional leaders?
Buy Administrative Account (EPIC) credits for additional profiles and related reports. You can redeem those credits once your Admin Account set up is complete.
Already have an EPIC Admin Account?
You do not need to buy
363 for Leaders
from this page. It's already available in your account. Buy EPIC credits (50 credits per leader) or contact us for assistance.