Team Development Facilitation Kit
Everything you need to confidently facilitate The Five Behaviors Team Development program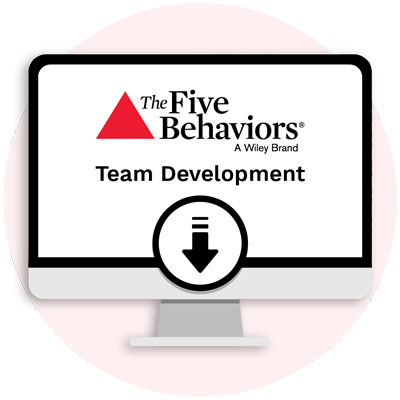 Sample scripts are provided to give you confidence in presenting this model and facilitating team activities. The team exercises, videos, and handouts for each module mean you don't have to create everything on your own. But if you do want to add something, there are templates that will help you make it all look seamlessly integrated.
What's inside?
The downloadable kit includes seven comprehensive modules ranging from one to 3-1/2 hours in length allowing you to create a customized teamwork development program.
Each module contains a facilitator's guide and participant handouts in MS Word, as well as a PowerPoint presentation with embedded videos. You can add or delete sections to fit any time frame.
What happens after purchase
Your facilitation kit will be sent via an email that includes the unique facilitation kit serial number.
The email will be sent from facilitationkits@wiley.com. Please allow 24 hours for receipt of the email.
Sample video
Among the videos are seven featuring Patrick Lencioni, an engaging speaker and author of The Five Dysfunctions of a Team. Lencioni introduces each step of his model for teams. Ten more videos cover a right and a wrong way of taking an action or behaving in a team. These will easily generate discussions.
Facilitation kit modules
Module format includes:
Introduction of The Five Behaviors model - Setting the groundwork for Patrick Lencioni's life-changing principles

Building Trust - Teaching the concept of vulnerability-based trust and then practicing it

Mastering Conflict - Helping participants understand and practice the benefits of healthy conflict

Achieving Commitment - Demonstrating how clarity and buy-in are key to achieving commitment

Embracing Accountability - Stressing the importance of peer-to-peer accountability

Focusing on Results - Emphasizing the key concept that collective results are more important than individual goals

Review and Action Plan - Taking the lessons learned home and applying them to your real-world challenges
A physical USB with the contents of the kit is also available for purchase. Please contact us for more details.
Purchase assessments via an Admin Account (EPIC)
Enjoy free comparison reports, custom emails, your own logo on reports, and other features. The Five Behaviors Team Development assessments and profiles are only available through this account.
Already have an Admin Account (EPIC)?
Buy Administrative Account (EPIC) credits for Five Behaviors profiles and reports.