Everything DiSC
Needs Magnetic Tags
What if people had their needs written all over them?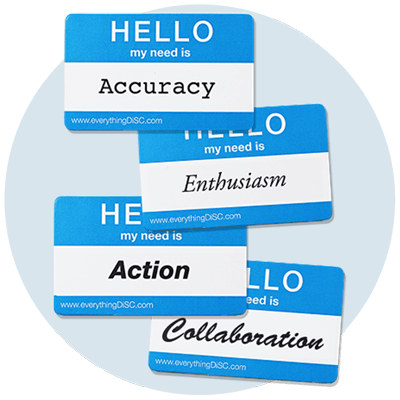 These magnetic tags can be used again and again as a fun part of your DiSC® training. Use as an ice breaker. Have participants pick the one Need Tag that best represents what they need from others. Quickly have people go around and share their pick and why.

These reusable badges are a fun way to express individual DiSC styles and priorities and help people become comfortable with using the language of DiSC. Not only are they great active learning tools that bring DiSC concepts to life, but they are also excellent reminders that everyone operates with a unique style.
Imagine using these at your next training.
The tags attach with two powerful magnets, meaning you can use them at multiple trainings. Or participants can take them back to their desks and wear them at the office.
This package includes 12 tags:
Accuracy (C)

Action (Di, iD)

Challenge (CD, DC)

Chocolate

Coffee

Collaboration (iS, Si)

Enthusiasm (i)

Happy Hour

Results (D)

Stability (CS, SC)

Support (S)

to be a Star