Everything DiSC


Catalyst Premier Package
Everything you need to kick off a successful Workplace on Catalyst program.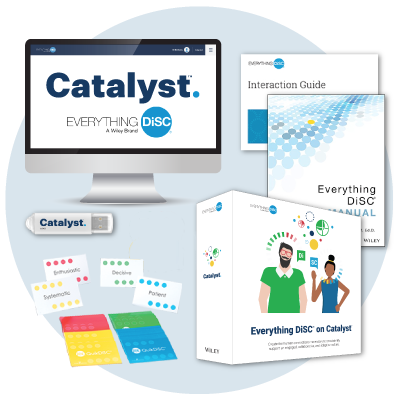 Was $3195.00 - Today $3050.00 USD. Buy now!

For you: a Catalyst Facilitation kit and Administrator Account (EPIC)
For your participants: Items to keep them engaged in learning and supplement their Catalyst learning experience
Training package includes:
Administrator Account (EPIC) setup with 300 EPIC credits (enough for 20 Workplace profiles, or 12 Workplace profiles with an additional Management or Agile EQ add-on application)
Everything DiSC on Catalyst Facilitation Kit (downable files include a scripted Leader Guide, customizable PowerPoint slides, videos, and more)
Workplace Interaction Guides (1 pk of 25)
QuikDiSC Card Deck (cards for 20 participants)
DiSC Lapel Buttons (10 of each color)
FREE shipping
What happens after purchase
Our staff will set up your account and add credits you can redeem for 20 Workplace profiles or 12 Workplace profiles with Management or Agile EQ add-ons. This is a manual process and may take up to 24 hours to complete.
Once created, you will receive an email from orders@discprofile.com giving you instructions on where to log in and how to use the account.
In the future, you will be able to buy EPIC credits which can be redeemed within your account for additional Everything DiSC profiles and reports. If you chose to add
Agile EQ
or
Management
to the
Workplace
profile on Catalyst, purchase EPIC credits for these add-ons.
Your facilitation kit will be sent via an email that includes the unique facilitation kit serial number. The email will be sent from facilitationkits@wiley.com.
Physical items will be delivered to your billing address. If you need them shipped elsewhere, please add that address to the "Order notes" field during checkout. We cannot ship to P.O. boxes.
Buy Workplace profiles without an Administrator Account
Buy additional credits
Add credits to your Admin Account to get more profiles or reports.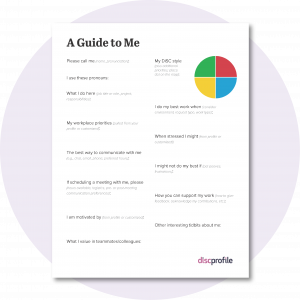 Facilitation tips and activities
Access all the tools and resources you need to facilitate training and bring the Everything DiSC experience to your organization.