Everything DiSC
Workplace Admin Account Setup
10 Workplace profiles plus greater administrator flexibility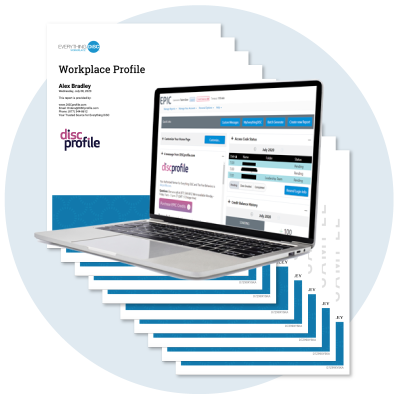 This package provides
Administrator Account on Wiley's EPIC platform

10 Workplace online profiles (English)
Popular benefits include being able to hold profile results until you release them, the addition of your own branding to all reports, and reports beyond the profile.
Assessment experience
The administrator sends a customized email to all participants with a link to the online questionnaire. Participants respond to behavioral statements on a five-point scale, including application-specific questions to help determine their Workplace style and priorities.
Platform options
EPIC
Administrators use EPIC to send emails with access codes for taking the Workplace assessment to participants. The Workplace survey takes about 15-20 minutes to complete.
The administrator may elect to allow participants to view their results immediately or to withhold results for distribution at a later time, such as during a training session.
Catalyst option in EPIC
EPIC administrators may choose to provide learners access to Everything DiSC Workplace via the Catalyst platform. Learners will be able to view their profile results immediately. In addition, they will get access to more information about the Everything DiSC model and the ability to compare their styles with others in their organization.
Profile features
With personalized insights and actionable strategies, participants learn about their own style and how to adapt to the style of others. In this personalized, 20-page profile, participants explore the priorities that drive their behavior, learn what comes naturally and what might be challenging when interacting with others, and gain actionable strategies to strengthen their interpersonal interactions at all levels in the workplace.
Learn more about Workplace and view a sample profile.

Profiles in languages other than English are available. Please contact us for more information.
What happens after purchase
Our staff will set up your EPIC account and add credits redeemable for the number of profiles you order (15 credits per profile). Wiley is the Everything DiSC and Five Behaviors publisher and the owner of the EPIC platform. Setup is a manual process and may take up to 24 hours to complete.
Once created, you will receive an email from [email protected] giving you instructions on where to log in and how to use the account.
In the future, you will be able to buy EPIC credits which can be redeemed within your account for additional Everything DiSC profiles and reports.
Learn more about the Admin Account (EPIC)
Buy individual Workplace profiles
Buy Workplace profiles without an Administrator Account
* Price breaks available for volume purchases. Discounted pricing shown in the cart.
| Additional profiles | Price per profile USD |
| --- | --- |
| 1-6 | $81.00 |
| 7-23 | $76.50 |
| 24-39 | $72.75 |
| 40-56 | $70.50 |
| 57-89 | $68.25 |
| 90-123 | $66.75 |
| 124+ | $65.25 |
For additional Everything DiSC reports
Buy Administrative Account (EPIC) credits for related reports. You can redeem those credits once your Admin Account set up is complete.
Buy individual profiles
Purchase
Workplace
profiles without an Administrator Account.
Facilitation support
Facilitation tools and promotional items can enliven your Workplace training sessions.

Explore tools