Everything DiSC
Catalyst Admin Account Setup
6 Workplace profiles with the Catalyst experience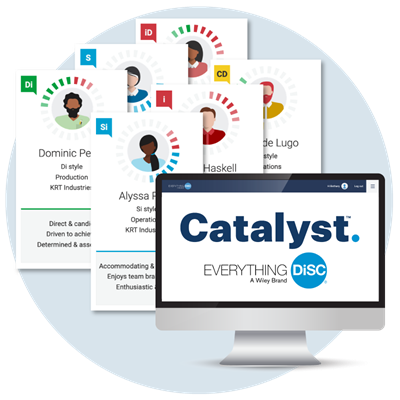 The fastest way to launch Everything DiSC® in your organization

This package provides
Administrator Account on Wiley's EPIC platform
​6 Workplace on Catalyst profiles (English)
A​ccess to the Catalyst learning platform
Popular benefits include the ability to administer Everything DiSC Workplace, Agile EQ, and Management assessments, access to group maps and facilitator reports, and automatic access to information on the Catalyst learning platform!
Watch a 2-minute video introduction to Catalyst:
Assessment experience
Your organization can get the most out of Everything DiSC Workplace on Catalyst quickly and efficiently with Everything DiSC's online assessment experience and digital learning platform.
When your organization is ready to get started, your administrator sends an email to all participants with a link to the online questionnaire. Participants respond to behavioral statements on a five-point scale, including application-specific questions to help determine their Workplace style and priorities. After they complete the assessment, they'll gain access to their results and more information about the DiSC model in Catalyst.

Platforms
EPIC:
Administrators use EPIC to send emails with access codes for taking the Workplace assessment to participants. The Workplace on Catalyst survey takes about 30 minutes to complete.
Catalyst:
Using your Catalyst Admin Account, your assessment takers will automatically have access to Everything DiSC Workplace via the Catalyst platform. Learners view their profile results immediately after completing their questionnaire. In addition, they gain access to information about the Everything DiSC model and have the ability to compare their styles with others in their organization.
Catalyst Learning Modules
Participants will have access to details about their own personality styles and how their priorities and natural strengths compare to those of their colleagues in Catalyst. This information is available in 5 interactive learning modules, including:
Your DiSC Style
Your Colleagues
What Drives You
You and Other Styles
Build Better Relationships
Learn more about all Catalyst has to offer!
The Workplace on Catalyst profile
Learn more about Workplace and view a sample profile.
What happens after purchase
Our staff will set up your EPIC account and add credits redeemable for the number of profiles you order (15 credits per profile). Setup is a manual process and may take up to 24 hours to complete.
Once created, you will receive an email from [email protected] giving you instructions on where to log in and how to use the account.
In the future, you will buy EPIC credits which are redeemed within your account for Everything DiSC Workplace on Catalyst, Management and/or Agile EQ add-ons.
If you already have an Admin Account (EPIC) you do not need to buy Catalyst from this page. It's available in your account. Contact us for assistance.

* Price breaks available for volume purchases. Discounted pricing shown in the cart.
| Additional profiles | Price per profile USD |
| --- | --- |
| 1-16 | $81.00 |
| 17-33 | $76.50 |
| 34-49 | $72.75 |
| 50-66 | $70.50 |
| 67-99 | $68.25 |
| 100-133 | $66.75 |
| 134+ | $65.25 |
Have additional learners?
Buy Administrative Account (EPIC) credits for additional profiles and related reports. You can redeem those credits once your Admin Account set up is complete.
Already have an EPIC Admin Account?
You do not need to buy
Catalyst access
from this page. It's already available in your account. Buy EPIC credits (15 credits per learner) or contact us for assistance.