Personal Development Facilitation Kit
Deliver Five Behaviors Personal Development training with confidence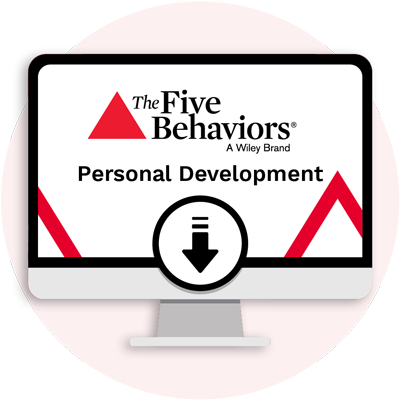 This kit is designed to support interactive, instructor-led training in a virtual or physical classroom. Instruction modules are easily customizable to fit your team's goals. Support materials are designed for facilitating a half-day session lasting between 1 to 3.5 hours. Two additional optional activities are also included.
The included exercises, videos, and handouts mean you don't have to create everything on your own. But if you do want to add content or an activity for your unique group, templates are provided to help you make it all look seamlessly integrated.
What's included?
Downloadable files include the following:
Facilitator's Guide in MS Word
Scripted sessions
Experiential activities
Participant handout
Audio files and videos for facilitator reference
PowerPoint slides with videos featuring Patrick Lencioni, author of The Five Dysfunctions of a Team
Sample reports to help facilitators prepare for team sessions
What happens after purchase
Your facilitation kit will be sent via an email that includes the unique facilitation kit serial number.
The email will be sent from facilitationkits@wiley.com. Please allow 24 hours for receipt of the email.
Facilitation modules
These interactive, instructor-led training modules are designed for virtual or physical classrooms, and customizable to fit your team's goals. (Times listed for each module are approximate.)
Module 1: You and The Five Behaviors - 15 minutes
Module 2: Building Trust - 45 minutes
Module 3: Mastering conflict - 40 minutes
Module 4: Achieving Commitment - 35 minutes
Module 5: Embracing Accountability - 50 minutes
Module 6: Focusing on Results - 20 minutes
Module 7: Summary and Action - 15 minutes
Optional activities
Conflict Behaviors - 30 minutes
Using Your Results Motivators - 30 minutes
Download The Five Behaviors Personal Development Program Overview.
Download The Five Behaviors: Personal Development Virtual Facilitation Activities.
View videos showing key aspects of the facilitated sessions.
A physical USB with the contents of the kit is also available for purchase.
Please
contact u
s for more details.