8 Dimensions of Leadership
DiSC Strategies for Becoming a Better Leader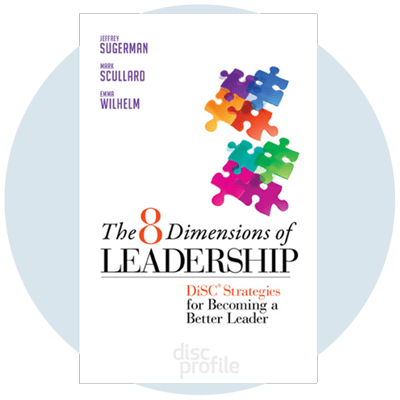 To be an effective leader you need to know your strengths — but that's only part of the story. You also need a broad perspective on all the behaviors needed to be an effective leader. This leadership book provides both.

Created from the Everything DiSC® online personality test — a top scientifically validated tool —The 8 Dimensions of Leadership identifies eight individual leadership styles and why they're important.
You will identify with one of the following 8 Dimensions: Pioneering, Energizing, Affirming, Inclusive, Humble, Deliberate, Resolute, or Commanding. But no single style will take you all the way to success. A Humble leader may have a hard time making tough decisions. A Commanding leader may run roughshod over potential allies. The book details the lessons all leaders can learn from each style, enabling you to craft a multidimensional approach to becoming the leader you aspire to be.
Personalize your 8 Dimensions of Leadership reading with the DiSC Leadership Map.

Read the first chapter of 8 Dimensions of Leadership.
Reviews
"Presents convincing evidence that the best leaders are not 'single celled' or 'one-trick ponies.' Leaders will discover new behaviors that enable them to go beyond their autopilot approaches and the ultimate ruts that so many dig for themselves."
—Jack Zenger, CEO, Zenger Folkman, and coauthor of the bestselling The Extraordinary Leader and The Extraordinary Coach
"The quest for leadership is first an inner quest to discover who you are, and one of the best places to begin that quest is with The 8 Dimensions of Leadership."
—Jim Kouzes, Dean's Executive Professor of Leadership, Leavey School of Business, and coauthor of the bestselling The Leadership Challenge and The Truth about Leadership
"An enormously valuable book—I was stunned by its ability to hit home for me in so many aspects of my own current leadership challenges and opportunities."
—David Allen, Chairman, David Allen Company, and author of Getting Things Done
"For a fresh outlook on what it takes to be a great leader, read this book. The 8 Dimensions of Leadership is an insightful, practical guide—a leader could spend ten or twenty years learning some of the lessons you'll take away. Don't wait."
—Keith Ferrazzi, bestselling author of Never Eat Alone