The DiSC culture of your group, no individual names listed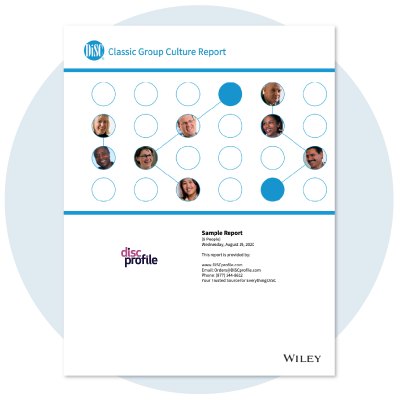 This 13-page report identifies your group's DiSC culture and explores what that means for your group. It helps you and your group understand what your group members value most. This report does not include any individual names, unlike the DiSC Classic Facilitator Report.
Inside the DiSC Classic Group Culture Report
Report sections include
Your DiSC culture
The D culture
The i culture
The S culture
The C culture
This report presents issues to consider regarding your group's culture which can be used during facilitated discussions. This is often done in a follow-up session after introducing DiSC to your group.
Why is group culture important? Group culture has a large impact on the behavior, attitudes, and satisfaction of each group member. People who fit into the culture often feel right at home in the group. But for other people, the culture can lead them to feel like strangers in a strange land. The environment can make them feel unsettled.

Culture also has implications for the group as a whole. It affects such things as the pace at which work gets done, how outsiders are treated, the attention paid to details, or the risks that the group takes. These in turn influence the success of the group in meeting its goals.
View a sample DiSC Classic Group Culture Report.
This report is created from 3 or more individual completed DiSC Classic 2.0 or DiSC Classic 2.0 Plus online profiles (sold separately).
Have an Admin Account (EPIC)?
This report can be run for 25 credits.
More facilitation support
Explore guides, pins, and other tools to keep DiSC in learner's minds.