DiSC Classic


Facilitator Report
Discover the diversity of styles in your group, with names listed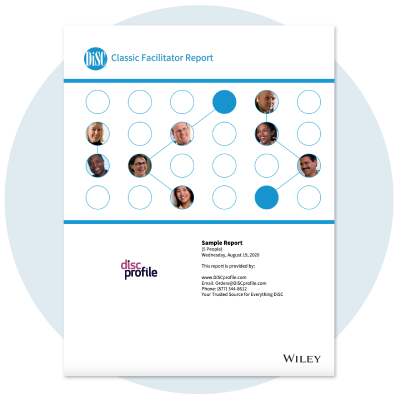 This facilitator report is designed to help you better understand the diversity of interpersonal styles within your group so that you can help participants use their DiSC® knowledge most effectively.

Unlike the DiSC Classic Group Culture Report, this report provides the names of participants and how they scored on the DiSC Classic assessment.
Inside the DiSC Classic Facilitator Report
Report sections include
Breakdown by DiSC quadrant
DiSC styles distribution
Classical pattern distribution
DiSC and group culture
Individual data table
This report also presents issues to consider regarding your group's culture. These can be used to facilitate active discussions. This is often done in a follow-up session after introducing DiSC to your group.

For smaller groups, the end of this report contains a bonus reference page that shows the DiSC quadrants and lists members who had their highest DiSC score in each quadrant. NOTE: This page will not be generated if there are more than 40 people in a single DiSC quadrant.
Have an Admin Account (EPIC)?
This report can be run for 25 credits.
More facilitation support
Explore guides, pins, and other tools to keep DiSC in learner's minds.