Catalyst™ support
The Catalyst platform is easy to use, but we know you might still have questions.
Catalyst training modules
Learning that lasts
Catalyst is learner controlled and directed, with so much information at their fingertips. Nevertheless, learners will greatly benefit from the facilitated instruction available in the Catalyst facilitation kit. They can (and do!) return to Catalyst to learn more or compare styles with others in their organization at any time.
Training flexibility
It is recommended that all participants who are new to DiSC begin with Fundamentals module 1: Your DiSC style. Beyond that, participants may go through the modules in order, or facilitators may choose to customize the order and/or omit some modules, depending on what is most relevant to participants and their organizations. Some facilitators assign as pre-work the DiSC model overview video found in the DiSC·ology section of Catalyst. During online training learners may be moving between their Catalyst portal and your shared online training portal.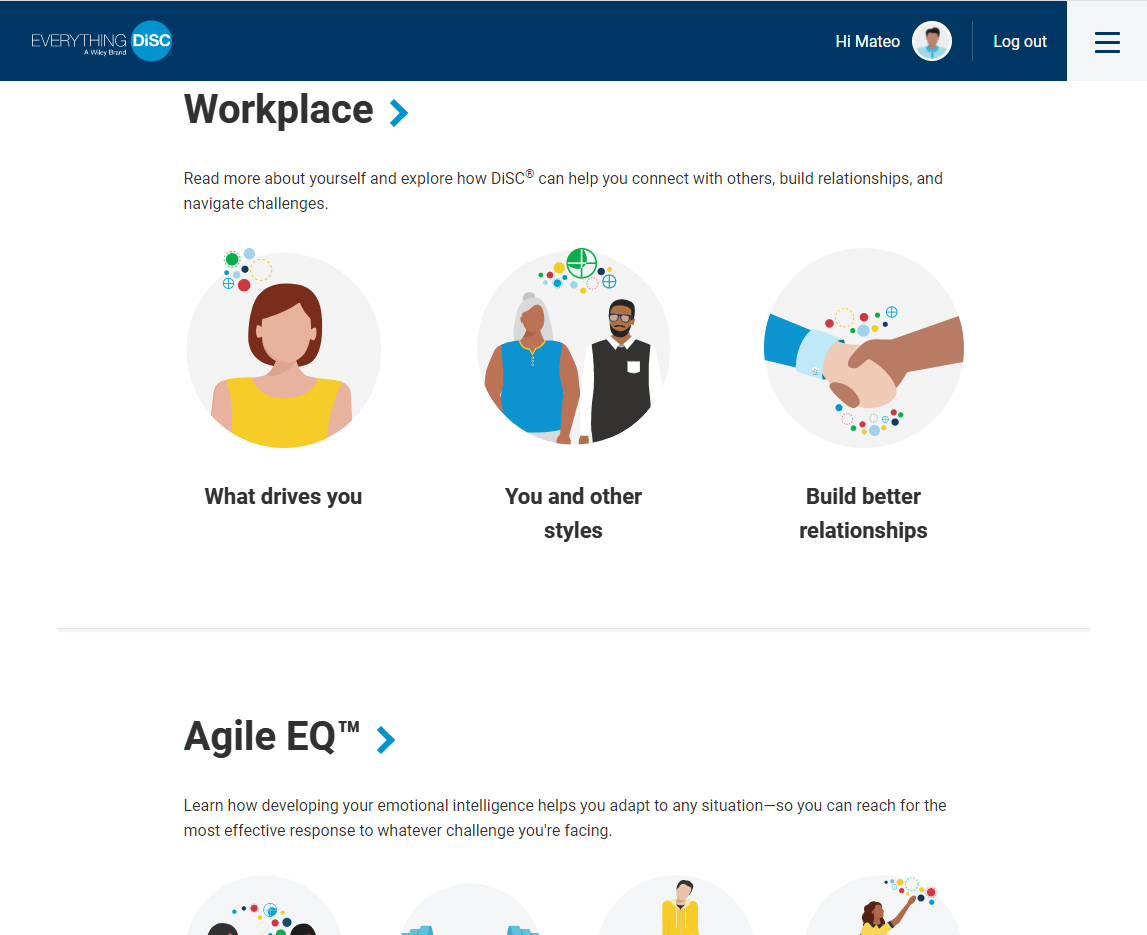 Fundamentals modules:
Your DiSC® Style: 60 minutes classroom/65 minutes virtual
Your Colleagues: 30 minutes classroom/20 minutes virtual
Note: The "In their own words" videos are unique to the Catalyst facilitation kit.
Workplace modules:
What Drives You: 75 minutes classroom/70 minutes virtual
You and Other Styles: 75 minutes classroom/60 minutes virtual
Build Better Relationships: 60 minutes classroom/55 minutes virtual
The Agile EQ™ modules:
Your EQ Strengths: 45 minutes classroom/40 minutes virtual
Beyond Your Comfort Zone: 95 minutes classroom/100 minutes virtual
Develop Your EQ: 60 minutes classroom/60 minutes virtual
Facilitation FAQs
Can Catalyst be used for virtual or online sessions?
Yes. There's a Virtual Facilitation Guide available for Catalyst with instructions and tips. It addresses the needs of those with basic online features (screen-sharing, chat, video) and those with more advanced features (polling, whiteboards, breakout rooms).
Since you likely have an Everything DiSC Workplace® Facilitation Kit, you will be able to download the virtual facilitation materials by going to register.everythingdisc.com and entering your Workplace Facilitation Kit serial number.
Is Everything DiSC Agile EQ available as a stand-alone experience within Everything DiSC on Catalyst?
No. The Everything DiSC Agile EQ on Catalyst add-on experience requires the Everything DiSC Workplace on Catalyst base experience. This means that in order to experience Agile EQ on the Catalyst platform, the total investment will be 25 credits for a new learner (10 credits for a past DiSC learner who took advantage of the free upgrade to Everything DiSC Workplace on Catalyst) and will include all the Workplace content on the Catalyst platform.
Once learners have access to both Workplace and Agile EQ content on Catalyst, facilitators are empowered to facilitate any module within both applications in any order to best addresses the needs and circumstances of each group.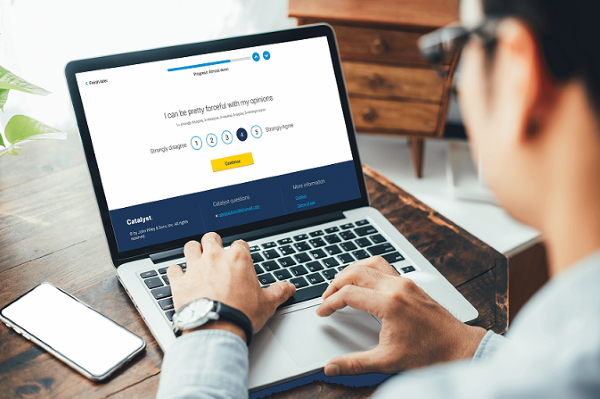 Why did my learner's style change from the last time (or previous times) they took an Everything DiSC assessment?
DiSC styles can change from one assessment to the next for a number of reasons, including life changes, job changes, or taking the assessment in a completely different environment (i.e., stressed, tired, etc.). Even over a very short period of time, a small but not insignificant percentage of people can see change in results not because their personality has changed but because of factors like mood or simply interpreting the questions differently than they did on the original assessment. On average, you may typically see up to a 12-degree shift in someone's dot placement when they take the assessment a second time.
Because the Everything DiSC® style can shift between two assessments, we highly encourage the "use existing report" feature when issuing access codes from EPIC. For more information, check out our article on Using existing data to create new profiles.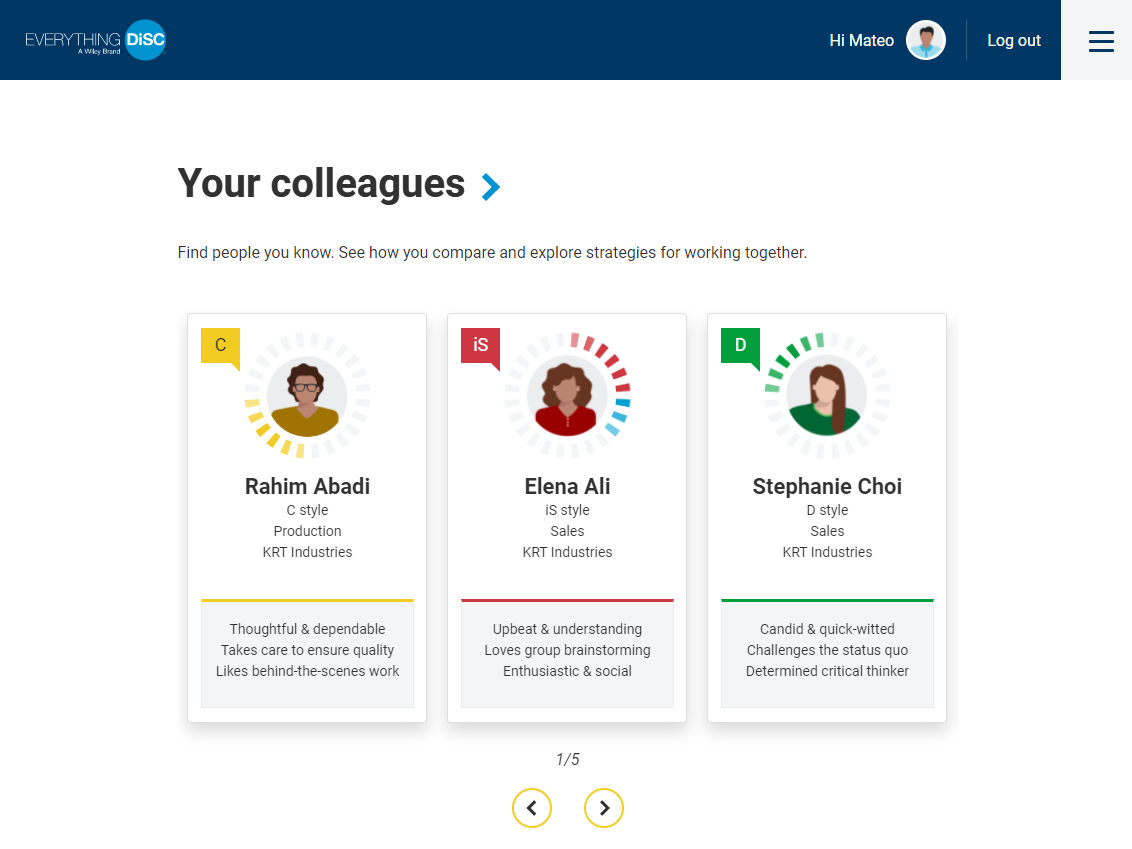 Can I use both Catalyst and MyEverythingDiSC?
Since the Catalyst platform delivers the same functionality of MyEverythingDiSC and more, Catalyst learners will not have access to MyEverythingDiSC. In other words, the assessment results from Catalyst cannot be imported into MyEverythingDiSC.
How is the Your DiSC Profile report different from the traditional Everything DiSC Workplace profile and the Everything DiSC Agile EQ profile?
Many of the pages in the Your DiSC Profile report will closely resemble the content found in the Workplace and Agile EQ profiles, and the personalized information
remains largely the same. Notable changes include the following:
Introductory pages have been added that allow each module to be facilitated independently, if desired. The DiSC map at the bottom of each introductory page can be used as part of the "catch-up" content to reacquaint participants with the model. In addition, the You Will Learn section on this page identifies the highlights of each module.
The Your DiSC Overview, narrative, and Overview of DiSC pages from the traditional Workplace profile have been grouped in the Fundamentals section at the start of the report.
The Three Key Strategies for Effectiveness from the Workplace profile now follow the Motivators & Stressors page.
To support modular facilitation, a table of contents page has been added at the beginning of the report, and the page numbering calls out the section of the report. For example, the four pages of the Fundamentals section mentioned above is numbered FN 1–FN 4, and the first Workplace module is numbered WP 1–WP 4, etc.
Language changes such as new module names and some minor rewording of definitions and concepts.
A new page, Learning to Stretch, has been added to the last Agile EQ module to help participants determine which mindset they'd like to work on first.
View sample Workplace on Catalyst profile.
What if the learners I'm training don't all belong to the same organization?
Everything DiSC on Catalyst was designed first and foremost for individuals who work within or are associated with an organization. If you choose to use Everything DiSC on Catalyst with a group of individuals who do not work together in the same organization, it's a data privacy requirement that users in these groups consent to sharing their information. Therefore, we recommend you notify every individual that:
They have been placed in a mock organization within the Catalyst platform, and
Their name and DiSC style information will be shared with other learners who have also taken the Everything DiSC on Catalyst assessment and are placed within that same organization.
Can I use Catalyst as a virtual platform to host the facilitated sessions (instead of a platform like Zoom or Microsoft Teams)?
No. Catalyst is a platform where learners access their personalized DiSC content. Facilitators can use a webinar or videoconferencing tool of their choice to run a virtual session.
Will learners be able to access the Everything DiSC Workplace on Catalyst or Everything DiSC Agile EQ on Catalyst facilitation PowerPoint slides and handouts on Catalyst?
No. Learners cannot access the facilitation materials (videos, PowerPoint decks, and handouts) from the Catalyst platform. These will be provided by the facilitator.
Can I see what my learners are seeing on their Catalyst pages?
No, facilitators are not able to see the learner's view of Catalyst. You won't see what they see in their People view, for example. You can, of course, download a copy of their profile from EPIC.
Where can I locate facilitator and group reports for Catalyst?
You can still run the Group Culture, Team View, and Facilitator group reports from your Administrator Account (EPIC). The Supplement for Facilitators is available when you download Your DiSC Profile. Comparison Reports are also available.
Additional facilitation support is available on this website at DiSC facilitation tips.
Upgrades
Past Everything DiSC® and DiSC® Classic learners are eligible for a FREE Everything DiSC on Catalyst™ upgrade through April 30, 2021. When using existing Everything DiSC data to create a new Everything DiSC on Catalyst access code, the learner will not be required to take the DiSC portion of the assessment again. Their previous DiSC style scores will be used in the new report. However, when using a DiSC Classic report to create a Workplace on Catalyst access code, the learner's name and email address are carried forward, but the learner will complete the entire Everything DiSC on Catalyst assessment.
This upgrade is available for English profiles only.
Download Workplace on Catalyst™ Upgrades in EPIC Admin
Any Workplace or Agile EQ Facilitation Kit holder who purchased a traditional kit on or before April 30, 2021, is eligible to access a free upgrade via the Everything DiSC®
registration site (register.everythingdisc.com) using their registered serial number. This offer is available for those who have purchased either a Workplace OR an Agile EQ Facilitation Kit, and those who have purchased both Workplace AND Agile EQ Facilitation Kits.
This upgrade includes both the Workplace AND the Agile EQ facilitation content, featuring both virtual and in-person training modules.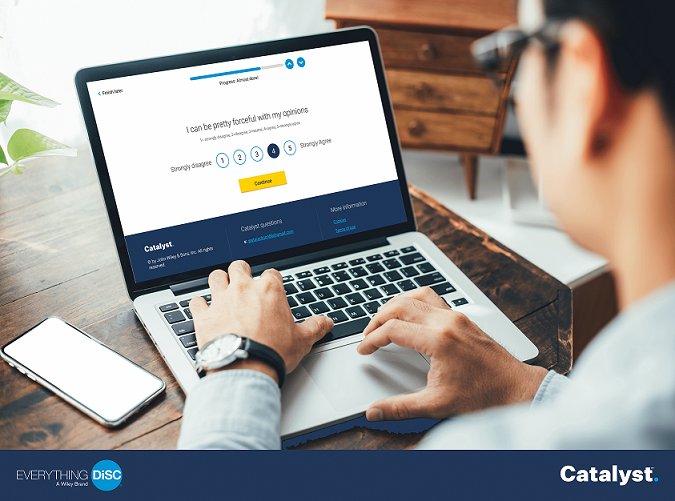 Assessment - learner's organization
How long will the assessment take?
If the learner takes the full Everything DiSC Workplace on Catalyst assessment, it will take approximately 20-30 minutes to complete. If a learner was assigned Everything DiSC Workplace on Catalyst using existing data from a past Everything DiSC experience, it will take approximately 5-10 minutes to complete.
Learners who upgrade from a DiSC Classic experience will take the full Everything DiSC Workplace on Catalyst assessment.
If participants have multiple email addresses, which one should they use?
We recommend using the email associated with the organization sponsoring the program. Remember, the email chosen will be associated with the Catalyst™ account and will be where they receive their password reset emails.
If someone used the wrong email, they can change or update it by going to "Account settings" in the menu structure or clicking the avatar or photo image by their name.
If there are multiple organizations with the same name how do I know which one to select?
EPIC administrators will see the organization's name, city, and logo in the Organization drop-down when assigning a new access code or editing an existing access code. This should help you select the correct company.
When adding a new organization, be sure to obtain their official name and location before entering it. Use the location that's used on their own website. Encourage participants to add their departments and photos to help others find them.
If a learner changes jobs, how can I change their organization?
EPIC administrators are able to change a learner's organization by following the steps:
Go to Manage Reports > Edit Existing Reports
Enter the necessary search criteria to find the learner
When you locate the learner, click "Edit"
Update the "Organization" field
Can I add one person to more than one organization?
No.
Administration
Can I use Catalyst with other Everything DiSC profiles?
Only Workplace and Agile EQ are available at this time. Sign up for our newsletter (see bottom of page) if you want to be informed of any new capabilities of Catalyst in the future.
Can I link Catalyst to my LMS?
Neither Wiley, the publisher, nor we offer this service.
Can facilitators add content to Catalyst?
No. The content on the Catalyst platform is created and managed by Wiley and based on a learner's DiSC results and the DiSC results of the people within their organization.
How do I edit the contact information on the report cover?
This information is stored in your Administrator Account (EPIC). For help on accessing that, review our article on Personalizing your EPIC account.
If someone has already taken an Everything DiSC assessment, can I use their existing data for Catalyst?
Yes. See our article on Using existing data to create new profiles.
More support
Many common questions can be found answered in these PDF documents: Technical and Troubleshooting Guide for Everything DiSC Workplace on Catalyst or Catalyst EPIC Administration.