DiSC
Classic Paper Profiles
The original DiSC profile - set of 5 booklets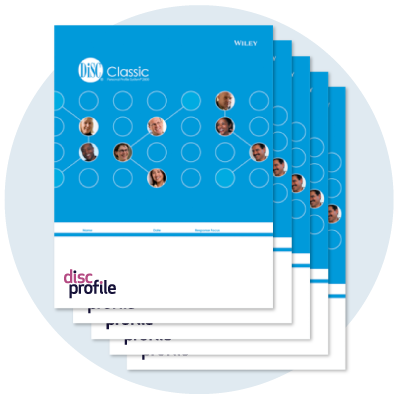 The original hand-scored paper DiSC® profile (DiSC Classic Personal Profile System® 2800) used by organizations across the globe for over thirty years, this flagship instrument helps individuals improve communications and reduce conflict.
Assessment experience
Each blue booklet includes a 28-item, forced-choice assessment with a self-scoring mechanism, and interpretation of results. Participants will need a writing instrument and a coin or other instrument to reveal scoring results.
Profile features
DiSC® Classic can help employees at all levels
understand their own behavior

learn how and when to adapt their behavior

improve communication

promote appreciation of differences

enhance individual and team performance

reduce conflict
This profile is often used when participants don't have easy access to a computer.
Booklets sold in sets of 5 only - one profile booklet per person.
What happens after purchase
Booklet sets are shipped via USPS or UPS in the United States. Shipments to Canada or international destinations are delivered via UPS.
More for facilitators
Consider purchasing a facilitation kit or training aids to make the most of your DiSC Classic sessions.
* Price breaks available for volume purchases. Discounted pricing shown in the cart.
| Quantity of sets | Volume price per set USD | Price per booklet USD |
| --- | --- | --- |
| 1-2 | $209.00 | $41.80 |
| 3-4 | $189.00 | $37.80 |
| 5-9 | $179.00 | $35.80 |
| 10-24 | $169.00 | $33.80 |
| 25-49 | $159.00 | $31.80 |
| 50-99 | $145.00 | $29.00 |