The Five Behaviors® Comparison Reports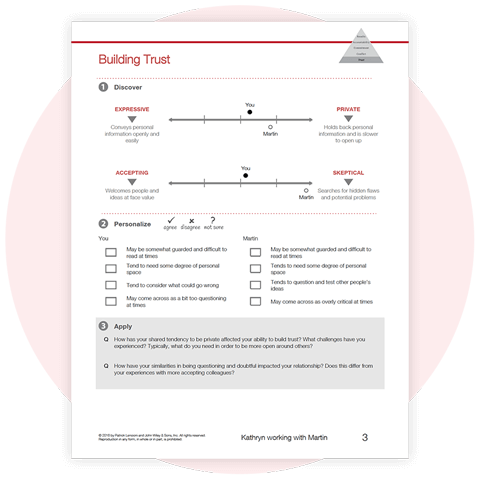 The Five Behaviors of a Cohesive Team® Comparison Reports are 9-page reports to be used in conjunction with profiles. They can be a great addition to The Five Behaviors program.
One-on-one relationships can have a big impact on the team as a whole. Comparison Reports are a great tool to use to help team members learn more about one another and improve their individual relationships and, by extension, their ability to work together. Use when introducing new teammates, when building rapport, when resolving an interpersonal conflict, or when reviewing what was learned during training. Reviewing Comparison Reports in pairs is often an assigned task between training sessions.
Five Behaviors Comparison Report highlights
Five Behaviors Comparison Report (English)
Can be created for any two participants who have a The Five Behaviors Team Development or The Five Behaviors Personal Development profile
Is used to illustrate team member similarities and differences
Is free for those who have purchased The Five Behaviors assessments
Aligns with the training modules on each of the 5 behaviors
Participants personalize their results
Wraps up with an action plan
Download a sample report
Best practices for using Comparison Reports
Whenever you introduce Comparison Reports to learners, be sure to explain why you're doing so at that point and how the reports can help their team. To spur participants to read and discuss their reports, explain how to use this tool and the benefits of doing so.
Encourage participants to personalize their reports by using a check mark to indicate where the description seems accurate, an "x" where it doesn't, and a question mark wherever they're unsure. This will help them get more out of their reports and their discussions.
Be selective in pairing team members to ensure that they get the most out of the Comparison Reports. It may not be necessary or helpful to run a report for all possible team combinations. If you have a team of more than five people, running reports for all of the pairs can create an overwhelming amount of information for participants to process.
Consider whether pairs can review the reports without the aid of a facilitator. Unless there's a serious problem between two participants, it may be sufficient to have the two individuals review their report one-on-one.
Try to ensure that the two team members being compared in a report look over their results together. Although there's value in individuals reviewing the report on their own, the real benefit will come from reviewing the report in pairs. This allows participants to explore whether they agree or disagree with the results and what the results mean within the context of their unique working environment. This conversation can also help prevent misunderstandings.
How to run or access the Comparison Report
Administrator Account (EPIC): If you manage The Five Behaviors reports for your organization, you can run Comparison Reports through your EPIC Administrator Account.
Individuals: If you've received The Five Behaviors profile, you'll need to contact the person who ran your initial report (probably the one who sent you an email asking you to complete the profile) and request a Comparison Report. One might or might not be available for the person you want to compare against.