The Five Behaviors® Team Development Progress Report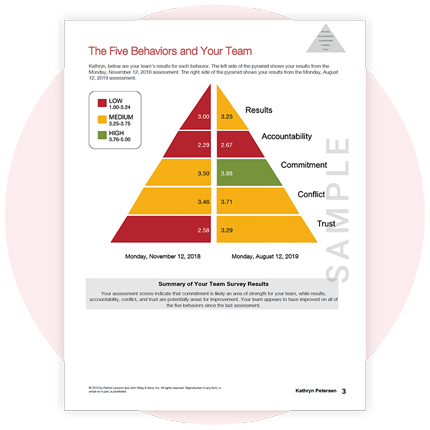 Your team took Five Behaviors® and worked hard on their action plans. The Progress Report assessment will show the team how its behaviors have changed as compared to the last time the team was assessed. In addition to showing the improvements on the team, the report outlines challenges that may be hindering further development.
We recommend waiting at least 6 weeks after they take the original assessment before measuring their progress.
Depending on the results, you might want to schedule another Five Behaviors review or a session focused on a single challenging behavior. Teams can backslide or improve in any area. It's important to catch problems early as well as to celebrate ongoing cohesion. If scores in all five behaviors have made it into the green, you might want to throw a "Green Party."
Download Making the Most of Progress Reports
Download Progress Report Activities
Five Behaviors Progress Report highlights
Five Behaviors Annotated Progress Report (English)
Annotated Progress Report is a facilitator report that includes:
Normative data based on over 29,000 people
Suggestions for readings, videos, and other resources to address team issues
Download a sample report
How to run the reports
These reports can be generated for free in the Administrator Account (EPIC). And since it's free (if no added group members), there's no reason not to schedule regular team check-ups. See Help: Running The Five Behaviors Team Development Progress Report.
Added new people to the team?
If one or two people have joined the team since the original group completed, you can still combine their data into the Progress Report. New team members will have a longer assessment experience than those who were on the original team, as they will need to take the DiSC® portion of the assessment in addition to answering questions about the team. New team members will not receive an individual report unless they are given the individual assessment prior to creating the Progress Report.
Regardless of whether you have new members just complete the profile as part of the Progress Report or have them take the individual assessment first, make sure to go through the entire Five Behaviors Team Development report(s) with new members so they're benefiting from all the valuable team information. This will help them feel like true members of the team and drive healthy team behaviors.
For help on adding a new member, see EPIC Help: Adding a member to an existing Five Behaviors team.