The Five Behaviors
Personal Development Admin Account Setup
Profile benefits plus greater administrator flexibility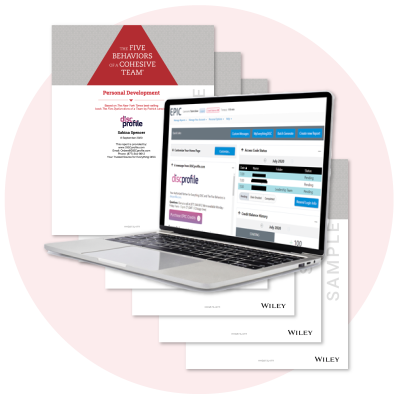 This package provides
Administrator Account on Wiley's EPIC platform
6 Five Behaviors® Personal Development online profiles (English)
Popular benefits include being able to hold profile results until you release them, the addition of your own branding to all reports, and reports beyond the profile.
Assessment experience
The administrator sends a customized email to all participants with a link to the online questionnaire. Participants respond to a research-validated personality assessment and to questions related to their experiences in teams. The survey takes about 15-20 minutes to complete.
The administrator may elect to allow participants to view their results immediately or to withhold results for distribution at a later time, such as during a training session.
Profile features
23-page report focuses on developing skills to become a better teammate.
Teaches the principles of good teamwork, based on the Patrick Lencioni model.
Offers insights into what the learner brings to their teams and where they can keep growing.
Each step in the model is explained in ways easy to grasp and understand. Concepts are explained in light of how participants responded to their assessment.
Specific steps for improved team behaviors are offered.
Designed for the individual learner, participants do not need to be part of the same team.
View a Personal Development sample profile and learn more.
What happens after purchase
Our staff will set up your account and add credits redeemable for the number of profiles you order (25 credits per profile). This is a manual process and may take up to 24 hours to complete.
Once created, you will receive an email from [email protected] giving you instructions on where to log in and how to use the account.
In the future, you will be able to buy EPIC credits which can be redeemed within your account for additional profiles or other reports.
Individual Personal Development profiles
Buy individual Personal Development profiles without an Administrator Account.
* Price breaks available for volume purchases. Discounted pricing shown in the cart.
| Additional profiles | Price per profile USD |
| --- | --- |
| 1-3 | $135.00 |
| 4-13 | $127.50 |
| 14-23 | $121.25 |
| 24-33 | $117.50 |
| 34-53 | $113.75 |
| 54-73 | $111.25 |
| 74+ | $108.75 |
Individual profiles

Buy individual Personal Development profiles without an Administrator Account.

Individual profiles