DiSC
Classic Admin Account Setup
DiSC Classic profiles plus greater administrator flexibility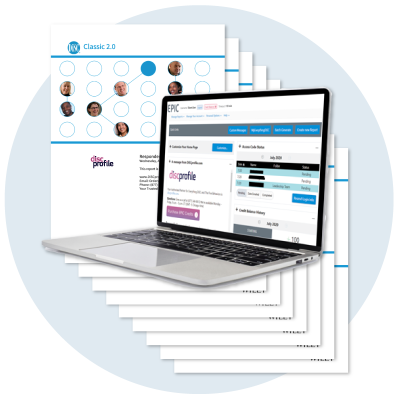 This package provides
Administrator Account on Wiley's EPIC platform

10 DiSC Classic® 2.0 profiles (English)
Popular benefits include being able to view results and limit respondents' view capability, the addition of your own branding to all reports, and access to reports beyond the profile.
Assessment experience
The administrator sends a customized email out of EPIC to all participants with a link to the online questionnaire.
The learner receives the email, clicks on the link, and creates a secure account in order to complete or return to the survey. The 28-item forced choice questionnaire takes 10-15 minutes to complete.
The profile is scored on 4 scales and is available to the learner immediately upon completion and can be saved or downloaded.
Profile features
This 23-page profile is often used by facilitators with previous experience with DiSC Classic. Learners will be able to see a chart displaying their results for each DiSC style (D, i, S, and C), view their Intensity Index, and learn more about their own style.
Learners are also presented with information to help them understand the DiSC model as a whole, and a little about each of the 15 Classical Patterns.
Learn more about DiSC Classic and view a sample report.
Profiles in languages other than English are available. Please contact us for more information.
What happens after purchase
Our staff will set up your account and add credits redeemable for the number of profiles you order (15 credits per DiSC Classic 2.0 profile). This is a manual process and may take up to 24 hours to complete.
Once created, you will receive an email from [email protected] giving you instructions on where to log in and how to use the account.
In the future, you will be able to buy EPIC credits which can be redeemed within your account for additional profiles or other reports.

Learn more about the Admin Account
Buy DiSC Classic 2.0 profiles without an Administrator Account.
* Price breaks available for volume purchases. Discounted pricing shown in the cart.
| Additional profiles | Price per profile USD |
| --- | --- |
| 1-6 | $81.00 |
| 7-23 | $76.50 |
| 24-39 | $72.75 |
| 40-56 | $70.50 |
| 57-89 | $68.25 |
| 90-123 | $66.75 |
| 124+ | $65.25 |
DiSC Classic reports for facilitators
Buy Administrative Account (EPIC) credits for related reports. You can redeem those credits once your Admin Account set up is complete.
More facilitation support
Explore guides, pins, and other tools to keep DiSC in learner's minds.