Everything DiSC


Facilitator Report
Data about your group dynamics, with names and scores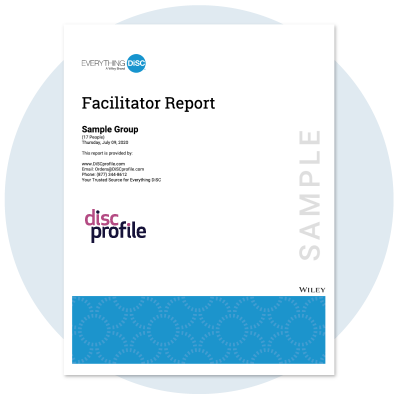 This report is designed to equip facilitators with data about the diversity of interpersonal styles in the groups they work with. Unlike the Everything DiSC Group Culture Report, this report provides the names of participants and how they scored on the Everything DiSC® assessment.
Inside the Everything DiSC Facilitator Report
Sections include:
Your DiSC culture
The D culture
The i culture
The S culture
The C culture
Data summary (lists members names and styles)
The report suggests issues to consider regarding your group's culture. These can be used to facilitate discussion. This is often done in a follow-up session after introducing DiSC to your group.
For smaller groups, the end of this report contains a bonus reference page that shows the DiSC quadrants and lists members who had their primary styles in each quadrant. This page will not appear if there are more than 16 people in a single DiSC quadrant. The Group Map with Names is generated for groups of 26 or fewer.
View a sample of the Everything DiSC Facilitator Report.
Note: This report is created from 3 or more individual completed Everything DiSC profiles (sold separately).
Following purchase, you will receive an email with instructions on when and how to get your group report created by our staff.
Have an Admin Account (EPIC)?
This report can be run for 25 credits.