Everything DiSC
Group Culture Report
DiSC styles in the group; no names listed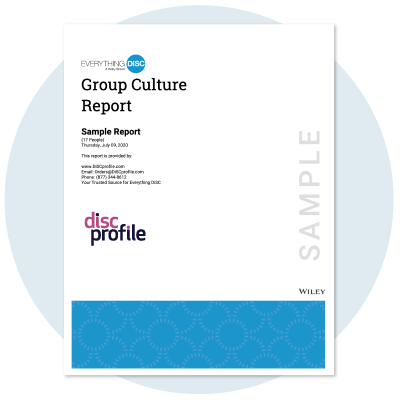 This 13-page report identifies your group's DiSC® culture and explores what that means for your group. It helps you determine and explore the advantages and disadvantages of your group's DiSC culture, discuss its effect on group members, and examine its influence on decision-making and risk-taking. No names are shown so you can share with any group.
Inside the Everything DiSC®Group Culture Report
Sections include:
Your DiSC culture
The D culture
The i culture
The S culture
The C culture
The report suggests issues to consider regarding your group's culture and can be used during a facilitated discussion. This is often done in a follow-up session after introducing DiSC to your group. Many facilitators share this report with participants since it does not list names or tie participants to styles.
Download a sample of the Everything DiSC Group Culture Report.
Note: This report is created from 3 or more individual completed Everything DiSC profiles (sold separately). Following purchase, you will receive an email with instructions on when and how to get your group report created by our staff.
Have an Admin Account (EPIC)?
This report can be run for 25 credits.