Everything DiSC


Productive Conflict Facilitation Kit
Lead Productive Conflict training sessions with confidence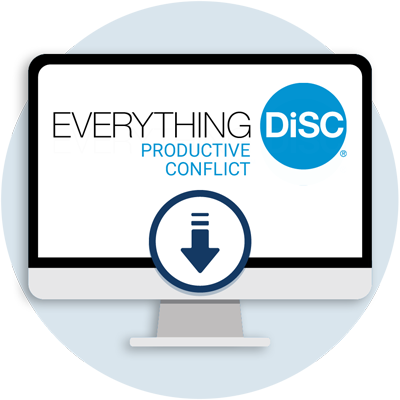 The Everything DiSC® Productive Conflict Facilitation Kit went through extra rounds of beta testing to get it just right, and the result is a highly-rated classroom experience. You'll have everything you need to facilitate and promote Productive Conflict programs, helping people transform uncomfortable encounters into stronger relationships and exceptional results.
Kit includes
The Everything DiSC Productive Conflict Facilitation Kit includes digital copies of the following:
Facilitator's Guide in MS Word
Participant handouts in MS Word
PowerPoint® with embedded video
Templates and images
What happens after purchase
Your facilitation kit will be sent via an email that includes the unique facilitation kit serial number.
The email will be sent from facilitationkits@wiley.com. Please allow 24 hours for receipt of the email.
Sample video from the kit
One of seven video segments included in the kit, this shows a series of conflict conversations in which one person's automatic thoughts are highlighted.
Facilitation kit modules
The kit is structured around three modules (ranging in length from 50 to 90 minutes each), plus two optional activities. Delivery time depends on group size as well as group and partner discussions. It is possible to effectively deliver all three modules in a single half-day session. Due to its modular design, Everything DiSC Productive Conflict facilitation can also be delivered as a workshop series, with each module a separate workshop.
Module 1: DiSC® in Conflict
Participants discover how DiSC styles affect their own and others' conflict behaviors.
Module 2: Destructive Responses
Participants learn how their thoughts can influence their conflict behaviors and what thoughts and behaviors might be typical for them.
Module 3: Changing Your Response
Participants learn how to "catch" and reframe their thoughts, which can help them choose more productive behaviors in conflict.
Optional Activity: DiSC Conflict Map
Participants identify both productive and destructive behaviors for each DiSC style.
Optional Activity: Comparison Report
Participants learn about the Everything DiSC Comparison Report and how it can help them improve their relationships with others.

​A physical USB with the contents of the kit is also available for purchase. Please contact us for more details.
Purchase Productive Conflict profiles for each of your training participants.