How Vision, Alignment, and Execution will change the way you lead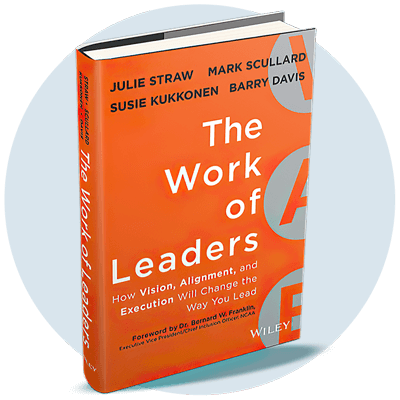 The Work of Leaders distills leadership best practices into a simple, compelling process that helps leaders at all levels get immediate results.

In the view of the authors, leaders have three fundamental responsibilities—the VAE model:
crafting a Vision: imagining an improved future state that the group will make a reality through its work

building Alignment: getting to the point where everyone in the group understands and is committed to the vision

championing Execution: ensuring that the conditions are present for the imagined future to be turned into a reality
The true value of this VAE model is that it lays out a manageable, realistic framework to guide the process. The goal is to provide straightforward explanations of where you might choose to target your personal development efforts.

Core chapters introduce keys and behaviors that leaders use to further each step of the model and provide specific strategies for those who are looking to increase their ability to explore during the vision process. It also makes these ideas concrete by relating illustrative examples or anecdotes about people and organizations who have used these drivers to improve their effectiveness to realize each step in meaningful ways.

Consultants and trainers using the Everything DiSC Work of Leaders profiles will be familiar with this model. Consider giving your training participants a copy of the book to keep them engaged in the VAE concepts.
Reviews
"The Work of Leaders is a bright gem of a book. In a crystal clear and to-the-point style, the authors make leadership instantly accessible with a memorable model, rock solid fundamentals, original research, compelling stories, and highly practical tips for putting the principles to immediate use. There are invaluable lessons on every page, and you'll enjoy discovering each one. We highly recommend The Work of Leaders to anyone who aspires to make extraordinary things happen in organizations."
—Jim Kouzes and Barry Posner, authors of the bestselling The Leadership Challenge
"Clear, distinctive, intuitive, and deeply researched, The Work of Leaders gives every reader not only several 'a-ha!' moments, but smart, meaningful suggestions for changing the way we all lead."
—Elaine Biech, author of The Business of Consulting
"Anyone who is in a leadership position or is responsible for evaluating leaders should make this book a must-read. Collectively, the book's authors are unique in their knowledge, background and ability, which is what distinguishes this great piece of work from others of its kind."
—Sidney Feltenstein, former CEO, Yorkshire Global Restaurants