Everything DiSC
Workplace Facilitation Kit
Lead Workplace training sessions with confidence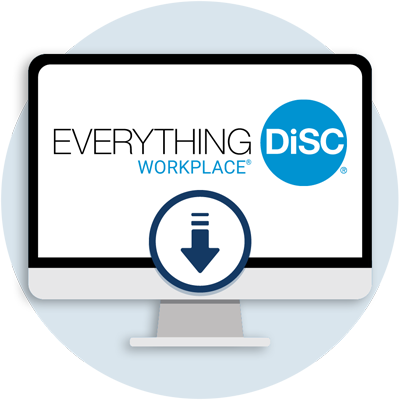 This kit is designed to be flexible and comprehensive, allowing you to customize classroom or online training based on the needs of your group.
The kit is a digital download featuring three modules plus an optional shorter module on people-reading using the DiSC model. Modules include fully-scripted presentations with engaging activities and workplace-focused videos. Trainers can switch out video clips, modify the PowerPoint slides, and add or delete sections to fit any time frame.
For use with Everything DiSC Workplace profiles (sold separately).
What happens after purchase
Your facilitation kit will be sent via an email that includes the unique facilitation kit serial number. Please allow 24 hours for receipt of the email.
Kit includes
The Everything DiSC Workplace Facilitation Kit is a digital download with copies of:
Leader's Guide in MS Word
PowerPoint® with embedded video
Stand-alone, menu-driven video
Participant handouts in MS Word
Everything DiSC Workplace Style Guides
A physical USB with the contents of the kit is also available for purchase. Please
contact us
for more details.
Facilitation kit modules
These 90-minute modules allow you to create a training that fits your time limits and your training goals.
Module 1: Discovering Your DiSC Style
Participants discover how DiSC® styles affect their workplace relationships and explore the priorities that drive them at work.

Module 2: Understanding Other Styles
Participants learn what works for them and what challenges them when working with each DiSC style.

Module 3: Building More Effective Relationships
Participants create strategies and an action plan to overcome challenges when working with people of different DiSC styles.
Optional: People-reading and comparison report activities.

Everything DiSC Workplace: Virtual Facilitation Activities
Sample video from the kit
This video introduces four coworkers of different DiSC styles to elicit people's instinctive reaction to each style.
Purchase Workplace profiles for each of your training participants.