Catalyst Facilitation Kit
Maximize the Catalyst experience for your learners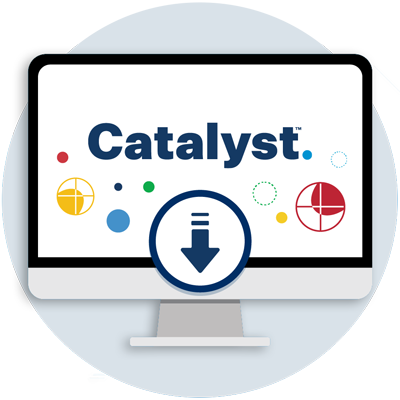 The Everything DiSC® on Catalyst™ kit is designed to be flexible and comprehensive, allowing you to customize training to supplement the personalized content on the Catalyst platform. It includes virtual and in-person facilitation options to ensure facilitators can create an engaging experience that meets the unique needs of any client.
For use with
Everything DiSC Workplace on Catalyst
and/or the currently available add-on profiles:
Everything DiSC Agile EQ
and
Everything DiSC Management
(sold separately and available in your
EPIC Administrator Account
).
Kit includes
This kit includes the following customizable facilitation materials
Classroom and virtual Facilitation Guides for Fundamentals, Workplace, Agile EQ, and Management modules
PowerPoint® decks for each classroom and virtual facilitation module
Participant handouts for classroom and virtual sessions
Program Guide for planning your session
Access to online research and resources, including sample reports, posters, templates, and other detailed product information
Facilitation kit modules
Your DiSC® Style: 60 minutes classroom/65 minutes virtual
Your Colleagues: 30 minutes classroom/20 minutes virtual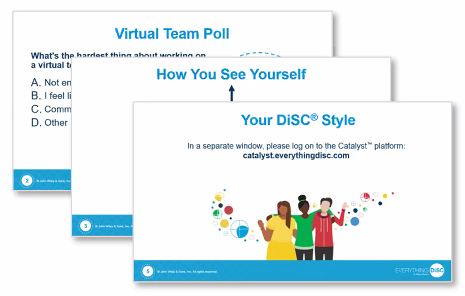 Workplace modules:
What Drives You: 75 minutes classroom/70 minutes virtual
You and Other Styles: 75 minutes classroom/60 minutes virtual
Build Better Relationships: 60 minutes classroom/55 minutes virtual
Agile EQ modules:
Your EQ Strengths: 45 minutes classroom/40 minutes virtual
Beyond Your Comfort Zone: 95 minutes classroom/100 minutes virtual
Develop Your EQ: 60 minutes classroom/60 minutes virtual
Management
modules:
Your Management Style: 60 minutes
People Reading: 30 minutes
Direct & Delegate: 60 minutes
Motivation: 60 minutes
Develop Talent: 60 minutes
Manage Up: 60 minutes
In order to participate in training sessions, all participants must complete their Everything DiSC assessment, which they access via the Catalyst™ platform. After taking the assessment, participants can explore their DiSC style and other personalized insights on the platform and can also access their printable DiSC profile.
What happens after purchase
Your facilitation kit will be sent via UPS.
New topics will be introduced to the Everything DiSC® on Catalyst™ experience over time. Register your kit to stay connected for updates.
What if you already have a kit for these profiles?
Haven't used Catalyst yet?
It all begins with Workplace. You can always add credits for more profiles after your administrator account has been set up.