Tips from Five Behaviors facilitators
Of course, our own discprofile.com team has gone through The Five Behaviors Team Development program. After adding new team members, we recently went through it again with facilitator Robin Kellogg, from Critical Skills Center.
She shared some of her tips and suggestions for making the most of your training and follow-up programs. They were great, so we asked a few other facilitators for their tips, too. Here they are!
Preparation
Virginia Banga, a former facilitator, told us that she asks team members about their pain points before they complete their team assessment. Robin spoke one-on-one with each of us before we had our first session. This can surface conflicts that could be addressed during a session and what results members are hoping to see. For team members, it builds a bit of trust and familiarity with the facilitator, and it gives them a chance to ask questions about the workshop.
Keith Ayers of Intégro Learning Company recommends "taking the team through the Workplace profile and their Everything DiSC Supplement for Facilitators report prior to starting the Five Behaviors session. A more in-depth understanding of their style, their needs and fears and unexpected items can help participants learn how to stretch themselves more to use behaviors they are not comfortable with."
Michael van Eck, Learning Partners Int, also begins with Workplace to give participants the ability to build awareness and practice around interpersonal relationship skills. Michael also suggests facilitators read The Five Dysfunctions of a Team and The Advantage, both by Patrick Lencioni, to gain more insight into the Five Behaviors model and additional material for your training.
Robin warned that some teams will want to go straight to talking about where their team scored in the red. She doesn't let them, always beginning with the module on Trust. She also reminded us that even if a team is lucky enough to score all in the green, they can still grow stronger.
Personal histories (Trust) exercise
Several facilitators have suggested sharing your own stories first to model vulnerability. If there are two facilitators, one can share a more intense story and the other a more superficial one. This way learners see that they get to choose how much they want to share.
Remind participants of the ground rule of confidentiality. This is particularly important during this exercise and any time someone is vulnerable or emotions are high. Don't be afraid of repeating this ground rule multiple times.
Facilitation Kit edits
Robin Kellogg made a few edits to The Five Behaviors Facilitation Kit when she led our team's session. Here's what she did:
Combine PowerPoint from 7 individual modules to one combined PowerPoint file.
Use the PDF The Five Behaviors Team Development Virtual Facilitation Activities to supplement training.
Change graphic of 5B pyramid that was in the facilitation kit to the one from the current group.
One of our favorite things she did was send us all emojis on a stick and a handheld whiteboard. This made interacting online much more fun. And we still use these in our meetings.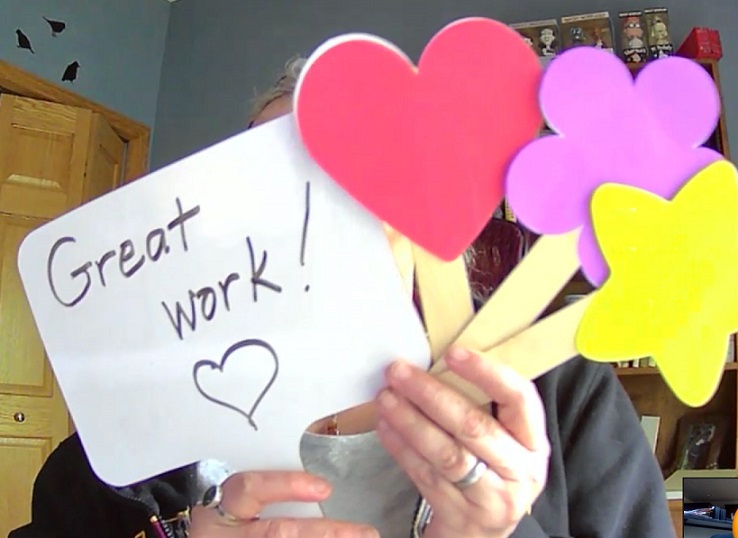 Michael recommends taking all the time a team needs to process each module. Many teams will benefit from taking deep dives into modules and assigning "homework". Don't let it be a one-and-done training!
Teach listening skills
Facilitators might find that for some teams, the complex task of listening needs to be developed. Virginia shared how she facilitated better listening and participation during her sessions. She would tell the group, "I have a topic on the table. Take a few minutes to consider it from your viewpoint and the impact on your work without feedback. Then when feeding back you let that person speak their mind. You have a notepad: if there's something you agree with you write it down; if there's something you want to contradict, you write it down. But you don't air it until it comes to your turn. Being cut off mid-flow creates drama and derails meetings."
She said the feedback always is, "We really like that exercise where everyone gets a chance to talk" and "I didn't think I had anything to contribute to that topic, but that tool you gave us—I can see how I can improve and be more engaged."
Annie Vallier, a corporate trainer, has another communication tip. She suggests the team rule that anyone can say "ELMO" (Enough, let's move on) as a way of signaling that someone has gone on a tangent or another topic needs to be addressed now.
Follow-up email
Robin followed up with an email to all of us after both our initial session and our follow-up session. She recapped our work together, summarized our commitments, and provided a video link relevant to one of our discussions.
(Examples below are not actually from our own team.)
| | | |
| --- | --- | --- |
| Team Member | What I will do to help the team improve | What the team can do to be more productive |
| Michael | Share more details about client meetings | Better organization of shared workspaces; use right Slack channels |
| Emily | Allow more visibility of my calendar | Clarity around top priorities for the team |
| Jose | Offer feedback more directly and honestly | Spend more time together |
| Sarah | Participate more | Meeting clarity with hard time limits, goal sharing, etc. |
| Arvind | Ask for more help (and earlier) when swamped | Greater clarity on meeting goals, with outcomes shared |
| Isabella | Attend to my deadlines | Identify and celebrate small milestones |
She also suggested that we meet again in a few weeks to review our work. That review solidified much of our learning.
Additional follow-ups
It's good practice to follow up on anything left in a discussion's "parking lot." If a team is struggling anywhere, additional sessions or discussions can be suggested. We have assembled resources for after your Five Behaviors session(s). Plus, there are at least two more Everything DiSC profiles that can help teams: Productive Conflict and Agile EQ.
Even if a team isn't able to schedule any additional time with a facilitator, a brief reminder of what the team learned and what they wanted to work on will always be helpful and appreciated.