Everything DiSC
Sales Facilitation Kit
Lead Sales training sessions with confidence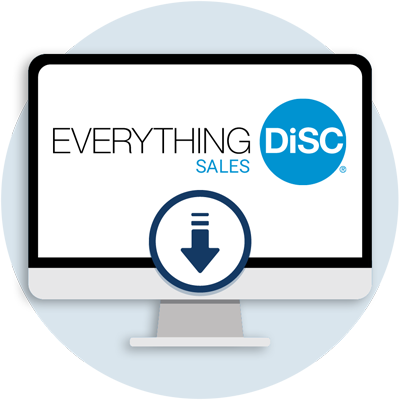 This kit is designed to be flexible and comprehensive, allowing you to customize training based on the needs of your group.
The kit features three learning modules with fully-scripted presentations that include engaging activities and sales-focused videos. Trainers can switch out video clips, modify the PowerPoint slides, and add or delete sections to fit any time frame.
Kit includes
The Everything DiSC Sales Facilitation Kit includes digital copies of the following:
Leader's Guide in MS Word
PowerPoint® with embedded video
Stand-alone, menu-driven video
Participant handouts in MS Word
Online resources and research
What happens after purchase
Your facilitation kit will be sent via an email that includes the unique facilitation kit serial number.
The email will be sent from facilitatio
[email protected]
. Please allow 24 hours for receipt of the email.
Sample video from the kit
Five videos to introduce concepts, plus eight videos on adapting to customers' styles, are included.
Learners get to see both ineffective and adapted interactions with customers of all four DiSC styles
Adia sells to the C style the wrong way
Facilitation kit modules
Six 50-minute modules are fully scripted and include engaging experiential and processing activities. Facilitator notes give tips to maximize learning.

Section I: Understanding your DiSC sales style
Module 1: Introduction to the DiSC Sales Map. Participants learn about their DiSC sales style and how personal priorities influence their selling behaviors.
Module 2: Participants use what they've learned about sales priorities in an interviewing activity.
Section II: Recognizing and understanding customer buying styles
Module 3: Participants learn customer mapping, a new way of people-reading. They practice their customer-mapping skills in a competitive video-based activity.
Module 4: Participants learn about different customer priorities, then use their new skills to identify the buying styles of current customers.
Section III: Adapting your sales style to your customer's buying style
Module 5: Participants use their DiSC Sales Maps to understand how to navigate from their own styles to those of different types of customers.
Module 6: Participants role play adapting to their most challenging customer and complete an interaction plan for working with that customer.

A physical USB with the contents of the kit is also available for purchase. Please contact us for more details.
Purchase Everything DiSC Sales profiles for each of your training participants.