There are a few questions you can assume people in your debriefing or trainings will ask. We're here to help you answer a few of them.
Many questions asked are covered on our How DiSC works page. You can also find many answers in the Everything DiSC Manual. Here are a few others.
Can a learner fail a DiSC® test?
There's no way to fail a DiSC assessment. The learner is the expert on themselves. However, if they attempt to get a specific result, they could invalidate the assessment. And that would certainly make it less useful for their personal development.
Explaining how the assessment will be used will help relieve many learners' anxiety about taking the assessment.
Doesn't DiSC pigeon-hole?
Learners may have seen DiSC or another personality assessment being misused. For example, a learner may have observed someone insist on hiring only people who have a high Achiever score in StrengthsFinder, or who thinks that someone with a Myers-Briggs result of INTJ will be difficult to work with, or who believes that only DiSC C styles are capable of being good accountants. Again, this is a misuse of personality/behavioral assessments.
When you explain how the assessment will be used to improve communication, for building stronger team relationships, etc., you should ease the learner's mind. So will sharing the Cornerstone Principles found in each profile. All DiSC styles are equally valuable and DiSC does not predict success in a role.
Can others see a learner's results?
For most profiles, it's up to the learner whether they share with others. If you're using a Facilitator Report, others will see each learner's dot-placement tied to the name of each person, but they won't have visibility to the full profile. If you're using the Administrator Account (EPIC), you'll have access to view learners' completed profiles.
While some people may not want to share their styles, we see that typically people love sharing what they've learned about themselves.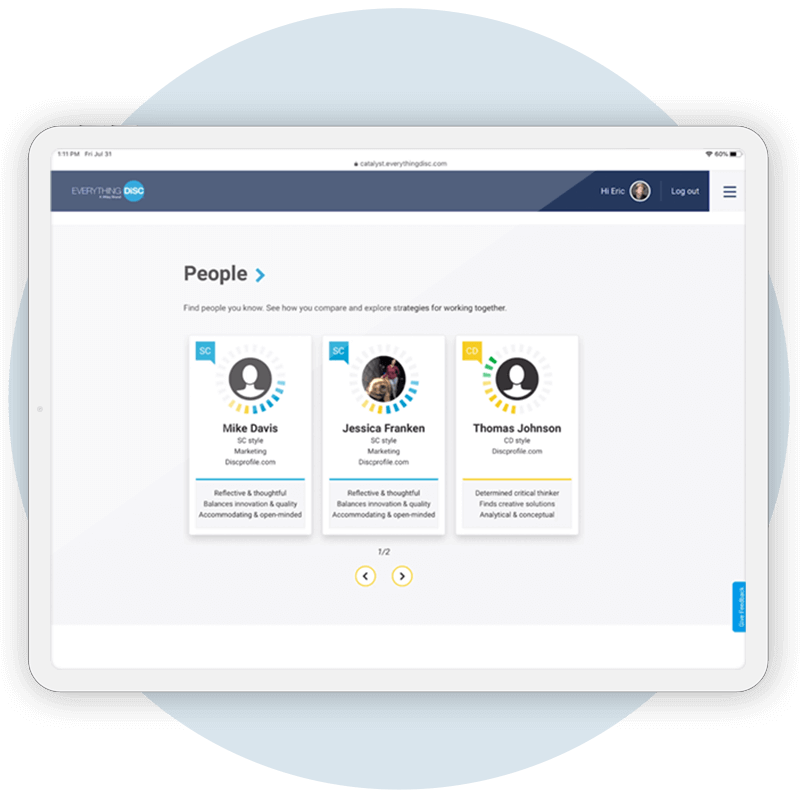 If you're using the Catalyst platform, everyone's overall results will be visible to anyone else in the same organization who has also taken an assessment on that platform. No one will see anyone else's complete report.
If you're using the MyEverythingDiSC platform, then learners can choose whether they share their results and with whom. (See MyEverythingDiSC Help: My Comparisons for more information.)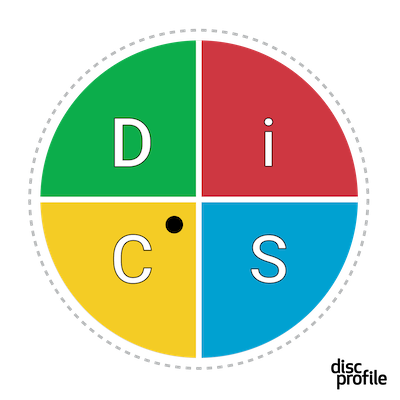 What if the learner's dot is close to the middle?
It's statistically possible for one's dot to land anywhere in the circle. However, over 80% of people have dots in the outer half of the circle. A person whose dot is close to the center of the circle will be more likely to demonstrate characteristics of the style that is on the opposite side of the circle from their dot, although these opposite-side characteristics are not expected to be pronounced.
The shading around their dot also provides valuable information. For example, if the shading does not come very close to the enthusiasm priority, this suggests that strong, outward displays of joy or excitement are probably infrequent.
For people who have a dot closer to the center or who do not feel their results fit well, we recommend that you look at the Everything DiSC Supplement for Facilitators report for scores on each of the eight DiSC scales and the priorities subscales.
Could the learner's style be different at home?
Some learners may indicate that their attitudes and tendencies at work are different than their attitudes and tendencies at home. Research indicates that this is not the result of a participant having a different DiSC style at work than at home. Rather, these differences likely result from behaviors that participants have learned to use in particular settings or with particular individuals, or that may not be fully expressed in different settings.
Everything DiSC is designed to be a tool to improve interpersonal workplace relationships and effectiveness. As such, the program is intended to be used in a work setting. With that said, the techniques and strategies provided can be transferred to other settings as a long as the learner keeps in mind that some of the principles may not align with non-work settings.
How does a learner find their profile later?
If someone has lost their profile and you can't easily find it, have them return to the email they first received from you. The same link they followed to take the assessment will help them locate their completed profile. If they no longer have the email with the access code, they will need to contact us. If their assessment was purchased from Discprofile.com, we'll locate it for them.
If the learner has signed into either Catalyst or MyEverythingDiSC, they will be able to find their reports there. For MyEverythingDiSC, they might have to add their profile. They'll need the code from their initial email or from the bottom right corner of their printed (or PDF) profile.
Can a learner purchase a profile for someone else?
Some learners will see how beneficial DiSC can be and want to buy a profile for a loved one or another colleague. Give them a link to this website. Let them know that when they buy an online profile they will receive an email with a link to the assessment. They can forward that email to their friend, family member, or colleague. That person will be able to set up a secure account, take the assessment, and view their results.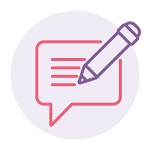 From the blog