Sending an assessment access code
Links for learners
Sending your learners an email with the codes they need to use to access their assessments is probably the EPIC administrator's most common task. Just sign into EPIC and follow these steps.
You can send yourself an access code to see how this works and to review the email. You will be able to
unassign codes
later and not spend the credits. Sample email templates can be found under
Personal Options | View Sample Email Templates
. Select Email Type: Access Code Related and Email Template: Assign Access Code to see the email EPIC will generate automatically.
See Assigning Access Codes in Catalyst, if you want learners to use that platform.
Instructions
Go to Manage Reports | Create New Report/Issue Access Codes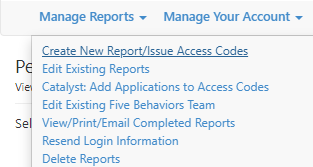 From the Manage Reports screen, you will select the assessment you want your learner(s) to take.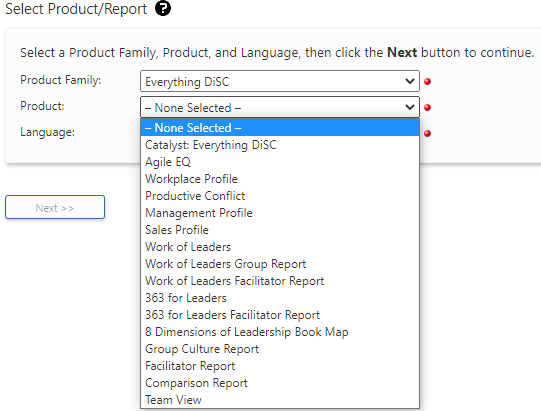 You will need to select a Product Family (such as Everything DiSC), a Product (such as Workplace), and a language.
Click Next.
You'll see something like the image below, confirming your choice and the number of credits associated with that profile.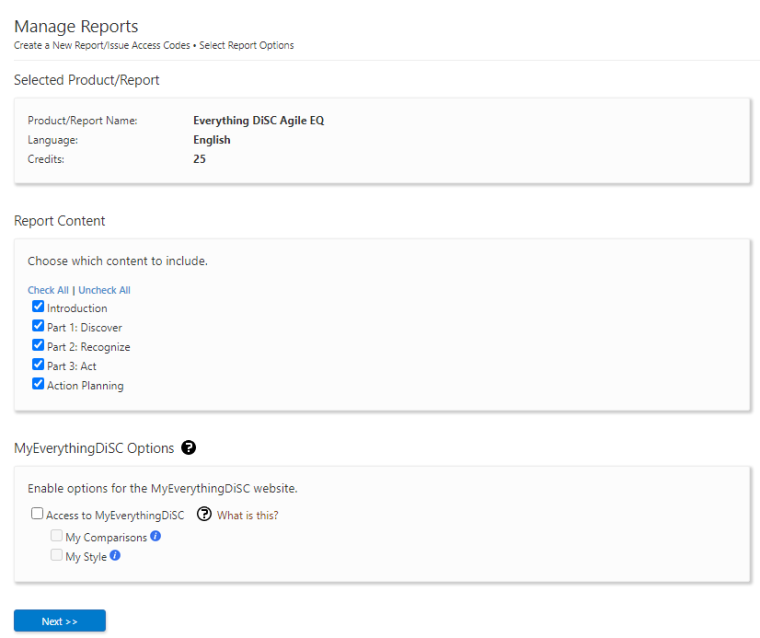 Select the report content you want the learner to be able to view upon completing their assessment.
Click Next.
If you are using the
MyEverythingDiSC
platform, choose if you want to enable it now.
If you're delivering DiSC Classic, you'll want to select Assign Access Codes (Tally Box scores will be used after the assessment is completed.)

Choose management and delivery options.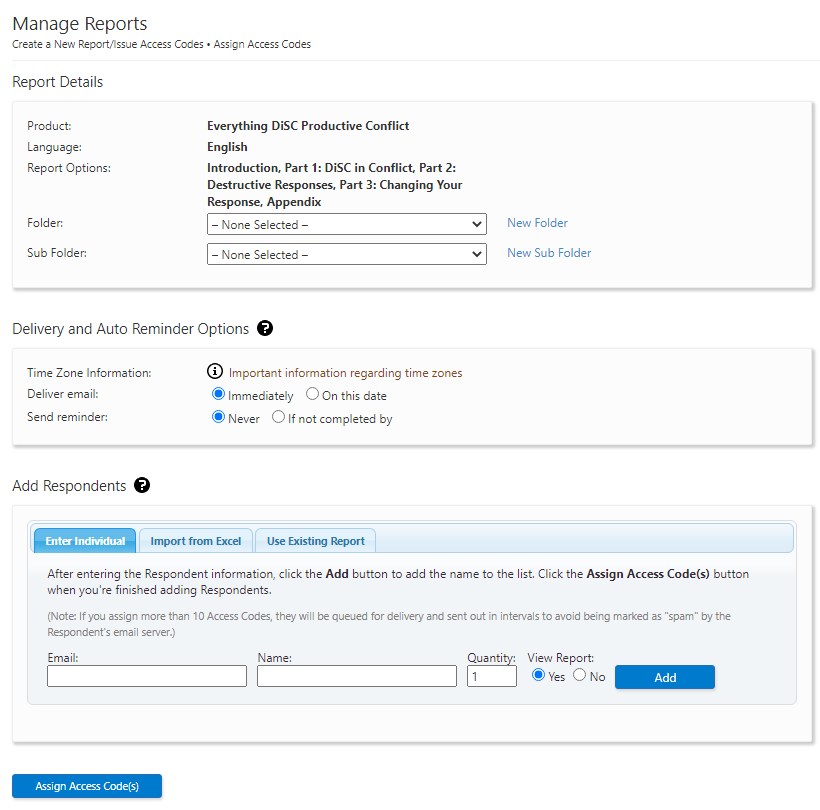 We recommend using folders and using the "if not completed by" reminder.
It easiest to add people one-by-one from this screen. Just enter their information and click Add. However, if you have a large number of learners you might want to import names via Excel template.
The final choice on this screen is whether or not you want the learner to be able to view their report upon completing the assessment.
When all learners have been added, Click Assign Access Code(s). You will see two pop-up messages. The first shows the number of credits that will be deducted from your account.

Click on OK to continue and complete the process. The second pop-up asks if you want to make any changes to the default email sent to learners.

Make your selection.
If you choose to include a custom message, it will appear above the EPIC system's message. See example below.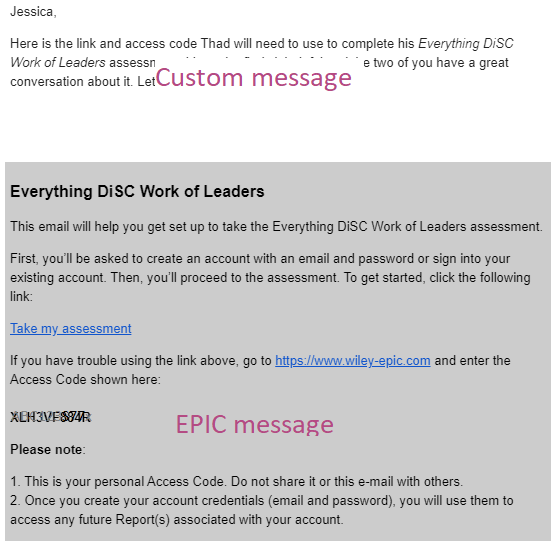 Sample email templates can be found under
Personal Options | View Sample Email Templates
. These are the emails that always accompany an action from EPIC. See instructions for
creating and managing custom messages
if you want to customize them.
The final confirmation screen summarizes your actions, lists your report options, and the learners (Respondents) you added. It also provides a total for the number of credits you just used and how many are remaining in your account.