Everything DiSC
Agile EQ Facilitation Kit
Lead Agile EQ training sessions with confidence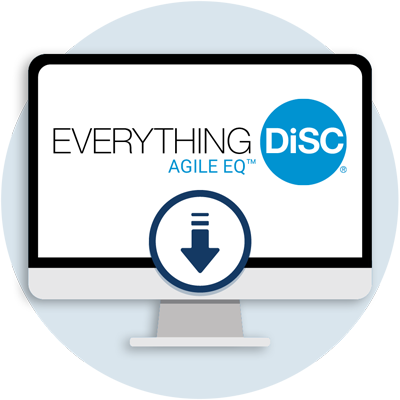 This kit went through rounds of beta testing with skilled facilitators to get it just right, and the result is a highly-rated classroom experience. You'll have everything you need to facilitate Agile EQ programs, helping your learners develop the emotional intelligence necessary in today's organizations.
This kit is designed to be flexible and comprehensive, allowing you to customize online or classroom training based on the needs of your group.
Kit includes
The Everything DiSC Agile EQFacilitation Kit includes digital copies of the following:
Facilitator's Guide in MS Word
PowerPoint® with embedded video
Participant handout in MS Word
Support materials include:
Help for customizing your program
Research reports and white papers
FAQs
Video viewing guide
Templates
Posters
What happens after purchase
Your facilitation kit will be sent via an email that includes the unique facilitation kit serial number.
The email will be sent from
[email protected]
. Please allow 24 hours for receipt of the email.
Sample video from the kit
This introductory video introduces the concept of Agile EQ and explores why some aspects of EQ may be more difficult than others. More than 20 additional video segments are included in the kit.
Facilitation kit modules
The kit features three learning modules (varying from 60-100 minutes).
Module 1: Discover Your Mindsets
Participants learn about their DiSC® styles and the EQ mindsets and needs that shape their interactions with others.
Module 2: Recognize and Value Other Mindsets
Participants are introduced to other EQ mindsets and learn to recognize the value in each of them.
Module 3: Act to Become Agile
Participants learn about the steps they can take to start adopting these other EQ mindsets so they can reach for the most effective responses.
Customization is easy.
Select and switch out video clips.
Modify the presentation slides and handouts.
Add or delete segments to fit any time frame or workshop configuration.
Print optional posters (DiSC map or DiSC & Agile EQ infographic.)
Everything DiSC Agile EQ: Virtual Facilitation Activities
​
A physical USB with the contents of the kit is also available for purchase. Please contact us for more details.